- Role models of the last quarter century to help cultivate and sustain the next generation of social activists -
WORKING FOR CHANGE

/MAKING A DIFFERENCE
is a unique resource for helping young people, progressive job seekers and mid-life career changers consider ways they can use their interests and fields of work to promote peace, social justice, and environmental sustainability.
This film portrays a spectrum of practitioners across a number of occupations — communications, business, medicine, agriculture, and organizing workers for decent living wages and union protections.
Collectively they reveal that regardless of one's academic or vocational interests, it is possible to create a pathway which can help change the world.
The WORKING FOR CHANGE /MAKING A DIFFERENCE film is informative and inspirational for anyone seeking models for how they can make a difference in the world, as well as for career guidance professionals, advisors, and teachers who counsel these job seekers.


Career search guidance is presented within a history of social change efforts during the past generation, in order to demonstrate the impact on social and economic conditions that dedicated professionals can have by using their work in innovative, untraditional ways.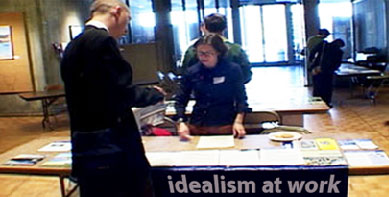 Ranging from 12 to 18 minutes each, these profiles chronicle the practitioners contributions to peace, justice, and a healthy environment during the past three decades: efforts to end the wars in Vietnam and Central America, halt the nuclear arms race, overturn the brutal 50-year racial apartheid regime in South Africa, rebuild our cities, prevent destruction of our land and water, promote organic agriculture, create a decent standard of living for working people, and establish midwifery as an alternative, women-centered, model for health care.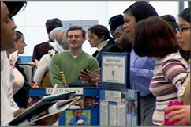 Surrounding the film's profiles are the stated aspirations of young people and mid-life career changers, as they attend "Social Change Career Fairs," where they hope to
learn of ways they can find work that coincides with their ideals.
For those seeking to combine their need to earn a living with a desire to promote a better world, the film presents an anthology of career alternatives to serve as role models or to help inspire viewers to set their own course.

The
WORKING FOR CHANGE

/MAKING A DIFFERENCE
film centers on profiles of 6 people whose careers across a spectrum of disciplines testify to how one may use one's life's work to help create a more just and equitable world.
The profiled subjects include:
● NICK ALLEN, publicist,
garnering access to the national news media for peace and social justice organizations.
● ROBERT SCHWARTZ, investment advisor,
who first developed the practice know as socially responsible investing, which uses ethical values as well as financial criteria in constructing investment portfolios.
● GAIL RIVERA, midwife,
exemplifying affordable, humane health care.
● JEFF MOYER, farm manager,
demonstrating the vibrant feasibility of sustainable organic agriculture.
● SALADIN MOHAMMED, union organizer,
bringing justice to janitors.
● CHARLENE DIVOKY, direct mail fundraiser,
generating the money to maintain social change organizations.